Picture books are one of the funnest things in any library. Usually about 32 pages long, they are most often clever with humor that adults enjoy even more than children. I love books that are interactive... that let the kids howl, or growl or fill in each repetitive phrase. Everyone has their favorites, here is a list of mine by season
VALENTINES
These are my favorite Valentine read alouds. I won't spoil the stories by telling you about them. Just be sure you read them!!!
The Giant Hug
by Sandra Horning
The Ballad of Valentine
by Aliason Jackson
Somebody Loves You Mr. Hatch
by Eileen Spinelli
Wilfred Gordon McDonald Partridge
by Mem Fox
CHRISTMAS
This Holiday Season be sure to share these delightful books!
Fancy Nancy Splendiferous Christmas
by Jane O'Conner
What could be fancier than Christmas? Presents with elegant wrapping paper, festive decorations, Christmas cookies with sprinkles - and who could forget the tree? After all, there is NO such thing as too much tinsel. Ooh la la!
This year, Nancy is especially excited about decorating the Christmas tree. She bought a brand-new sparkly tree topper with her own money and has been waiting for Christmas to come. But when things don't turn out the way Nancy planned, will Christmas still be splendiferous?
****************
Christmas Cookies
Bite Size Holiday Lessons
Christmas Cookies Bite-Size Holiday Lessons is the second in the delightful Cookies series by Amy Krouse Rosenthal, with illustrations by Jane Dyer. Within the context of making cookies, children are introduced to a lot of big words related to Christmas, many of which are also a key part of character education.
Watch this quick introduction to the book.




Millie and the Macy's Parade
Inspired by the true story behind the first Macy's Day Parade in 1924, this heartwarming tale, though not factual. fancifully celebrates a treasured American pastime. When a spirited girl named Milly imagines a way to combine her family's old country traditions with their new American heritage, the result is a holiday season filled with magic.


Thank you Sarah
This tale of a little-known historical heroine touts the power of the pen and persistence. The story charts the progress of Sarah Hale, whose relentless letters and 38 years of petitioning presidents, secured Thanksgiving's status as a national holiday. (Lincoln finally makes the day official in 1863) The history is enlightening and the illustrations are witty. A must for the season.
Perfect for Thanksgiving, this warm and humorous book reminds us all to give thanks for the little things. The Thanksgiving feast is over. Leftover turkey and pumpkin pie litter the table. Mouse peeps out of his hidey-hole and spots a small green pea. the perfect feast for one. But, like all of us on Thanksgiving Day, the sight of so much delicious food proves to be big a tempation. In the end one IS a feast for Mouse.
I Know an Old Lady Who Swallowed a Pie
by Alison Jackson
I love this hilarious take-off on the popular poem "I Know an Old Lady Who Swallowed a Fly." The rhyming is delightful and the end has a "twist" With it's theme of feasting-gone-wild, it's the perfect Thanksgiving treat.
Owl Moon
"If you go owling you have to be quiet and make your own heat."
Click on this link to see this beautiful book read aloud.
A DARK , DARK, TALE
"Once upon a time there was dark, dark moor. On the moor there was a dark, dark wood. In the wood there was a dark, dark house". Listeners are kept on the edge of their seats as the journey continues up dark stairways through hidden passages, around sharp corners and behind windblown curtains.
This book has a delightful ending that is not the least bit scary.
THE WIDOWS BROOM
by Chris Van Allsburg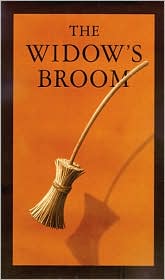 When Minna Shaw comes into possession of a witch's broom, it is as if good fortune itself has dropped from the sky. The broom sweeps on its own and does other chores; it can even pick out simple tunes on the piano.
When the neighbors insist the broom is "wicked" and has to be destroyed the widow makes her own "twist" to this delightful tale. This is a must read for Halloween. Allsburg is a two time Caldecott winner and author and illustrator of THE POLAR EXPRESS.
HECKEDY PEG
by Audrey Wood illustrated by Don Wood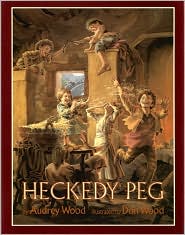 In this story, seven sweet children are transformed by an evil witch into specific types of food. They are saved by their clever mother who knows each of her children well. The pictures are beautiful and the story is strong. If you add a "witch voice" the story becomes delightfully dramatic.
THE LITTLE OLD LADY WHO WAS NOT AFRAID OF ANYTHING
by Linda Williams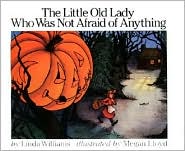 This one is a "keeper" The kids get to CLOMP, WIGGLE, SHAKE, CLAP, NOD and yell BOO!!!
MRS. MCMURPHY'S PUMPKIN
by Rick Walton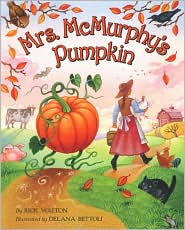 One morning, a few days before Halloween, Mrs. McMurphy wakes up to find a large pumpkin by her front door. "My mouth is here. I speak to you. When my teeth are here, I'll eat you!" it says with a mischievous grin. Unafraid, Mrs. McMurphy politely places the threatening squash outside. But day after day the pumpkin returns to make good on its promise! We will see just who eats who...
FRANK WAS A MONSTER THAT WANTED TO DANCE
by Kieth Graves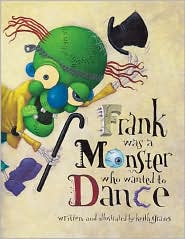 Frank was a monster who wanted to dance. So he put on his hat, and his shoes made in France... and opened a jar and put ants in his pants! So begins this monstrously funny, deliciously disgusting, horrifyingly hilarious story of a monster who follows his dream. Keith Graves' wacky illustrations and laugh-out-loud text will tickle the funny bone and leave readers clamoring for an encore.